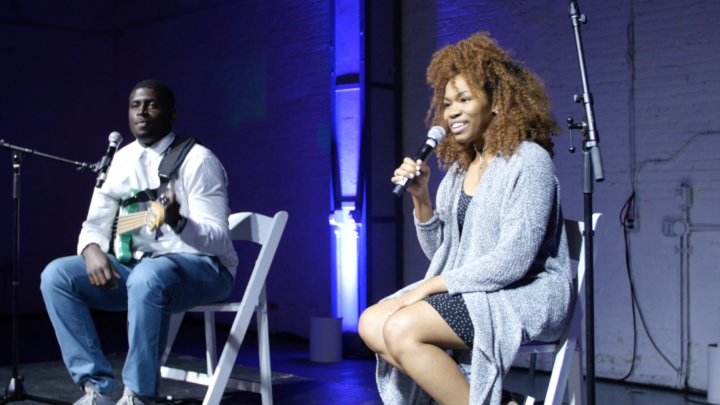 People
Rahkii Ft Joshua Griffin Explains What Beautiful Means
Words have meaning. Rahkii explained the meaning behind her song Beautiful ft Joshua Griffin and how your inner beauty portrays your outer beauty. We're pretty well versed in the different scenes in Chicago and reached out to Joshua to help bring the different communities together. He said Glappitnova sounded cool and something Chicago needs. The rest was history.
Rahkii
Rahkii is an emerging artist who wholeheartedly believes that she can affect lives in a positive way with her music and has worked as a background vocalist for artists such as R.Kelly, Eryn Allen Kane, Patti Labelle, Jenifer Hudson and more. At the age of twenty-three, Rahkii has already begun to make an impact on Chicago as a music artist.Rahkii emerged onto the urban music scene by way of her education at Columbia College, where she received her Bachelor of Arts in Music Theater. Taking inspiration from the diversity of the local music culture, she supports the "no genre" movement. Rahkii has performed at popular venues such as the House of Blues, Reggie's Rock Club, The Metro, and Columbia's Manifest. She has worked alongside artist such as OBY, Walking on Water and Pocket Radio. What really caught our attention is her version of Random Black Girl showcasing her awesome personality.
Joshua Griffin
Joshua Griffin has shared the stage with blues legend Buddy Guy as well as performed, toured and traveled internationally with artists and bands such as Sam Trump, Keelan Jones, Sidewalk Chalk, and Guy King. Growing up in a household saturated with Gospel music and Smooth Jazz, from the time he was born Joshua Griffin was fascinated with music. By the time Joshua was six years old, his parents fearfully bought him his first bass guitar. At age thirteen, he began to practice music professionally taking local gigs, studio sessions, and live recordings for various other recording artists. After graduating at Warren Township High school, he went on to pursue his Bachelors of Music degree at Columbia College Chicago. At age twenty-one, Joshua has written and produced music for various artists and filmmakers.
WHAT'S THE GLAPPITNOVA CELEBRATION ABOUT?
Glappitnova is discovery of millennial culture through live events and digital media that feels real. Our mission is building a more inclusive world sharing diverse perspectives and curating raw in-person engaging social experiences getting you outside of your bubble mixing entertainment with learning. During our celebration, we invite and showcase all types of amazing people that typically aren't in the same room in multiple cities around the world at the same time.
Previous Glappitnova participants consist of Crystal Lee (1st runner-up Miss America), Luvvie Ajayi (New York Times best-selling author), Juan Pablo Romero Fuentes (Activist & CNN Hero), Harper Reed (Director of Software Development for PayPal), Andy Herren (CBS' Big Brother Winner), Nicole Suarez (Emmy Winning TV Personality) and +200 entrepreneurs, artists and millennial leaders spanning a variety of industries.
comments
comments
We're in the business of bringing people together to better themselves forming a more inclusive world. Entrepreneurs, creatives, influencers, and professionals what's up.
↑ Back to top