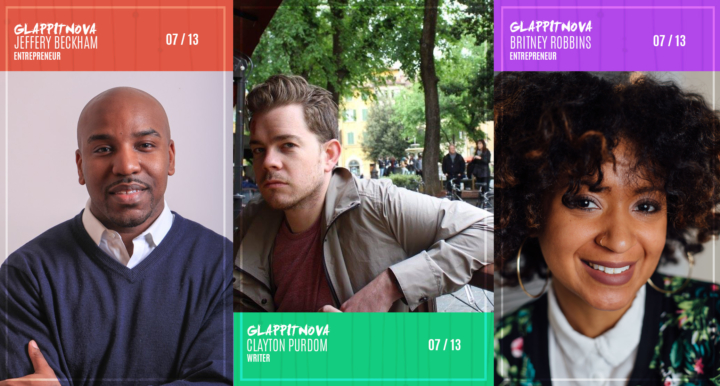 Chicago
From the New Teachers Center to The A.V. Club to Gray Matter Experience
Here are a few of our +40 Chicago participants spanning different industries. Glappitnova is known shops talks with panels and performances, but we're adding on-site mentorship to help you get on your way as well. Check out some of our participants for Glappitnova Chicago that will be held July 13th and July 14th. Your ticket gets you into all of the rooms with various activities and activities range from storytelling, panel discussions, live performances, on-site mentorship, the party, and more. You can check out our programming here. Get your early bird tickets below for $45 bucks and the prices will increase June 9th. Other cities will be announced shortly.
Jeffery Beckham
July 13th Panelist: The Black Experience in Workspaces 7:30 pm – 8:20 pm
Jeffery Beckham the Director of Digital Marketing for the New Teachers Center which reduces the achievement gap in our nation's schools by accelerating the effectiveness of new teachers and principals through comprehensive mentoring and professional development programs. He is also a technology entrepreneur and community leader known for his passion for service. He offers a unique blend of healthcare experience, community service, and technology savvy that builds communities and aids small business growth throughout the country. After working in the healthcare information technology sector, Jeffery founded Black Box Creative Incorporated in 2009. Black Box Creative is an information technology and innovation organization that delivers results by aligning technology initiatives and marketing initiatives with customers' business goals.
Clayton Purdom
July 13th Panelist: Getting Your Message Heard, 8:00 pm – 8:50 pm
Clayton is a writer and editor who covers music, the internet, technology, culture, and whatever else comes his way. Prior to serving as the Internet Culture Editor for The A.V. Club, he served as editorial director at the videogame arts and culture company Kill Screen. He lives in Chicago with his wife and two cats.
Britney Robbins
Storyteller
Britney Robbins is the founder and CEO of The Gray Matter Experience, a non-profit organization founded in 2016 to help Black high school students learn about and practice entrepreneurship. Britney has worked within Chicago's entrepreneurship and tech community for the past four years with some of Chicago's top venture capital firms and incubators including Sandbox Industries, Lightbank and 1871. She has been recognized as one of Essences' Woke 100 Women, Ariel Investment, BMO Harris and WVON's 40 Under 40 Gamechangers, featured on Fox32, Chicago Inno, BlackEntrepreneur.com, DNAInfo Chicago, and Chicago Tribune, for her work through Gray Matter. She was also recently named as one of five investees for Goodcity's Women's Innovation Fund. She recently authored and published her first children's book and is committed to inspiring youth to reach their full potential.
View Chicago Programming
You can check schedules, participants, and more updates on Chicago programming here.
comments
comments
We're in the business of bringing people together to better themselves forming a more inclusive world. Entrepreneurs, creatives, influencers, and professionals what's up.
↑ Back to top