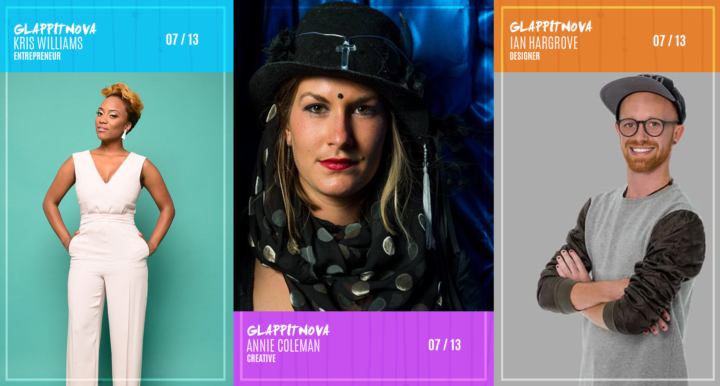 Chicago
From Wall Street to Burning Man to Project Runway
Here are a few of our +40 Chicago participants spanning different industries. Glappitnova is known shops talks with panels and performances, but we're adding on-site mentorship to help you get on your way as well. Check out some of our participants for Glappitnova Chicago that will be held July 13th and July 14th. Your ticket gets you into all of the rooms with various activities and activities range from storytelling, panel discussions, live performances, on-site mentorship, the party, and more. You can check out our programming here. Get your early bird tickets below for $45 bucks and the prices will increase June 9th. Other cities will be announced shortly.
Kris Williams
Panelist: Building Inclusive Communities July 13th 9:50pm – 10:20pm
Kris is the CEO & Founder of Fame Enterprises, Inc which is a multimedia conglomerate (FAME Integrated Marketing Communications (IMC), FAME Media, and FAME Studios) targeting multicultural millennial professionals. Prior to FAME, Kris began her career on Wall Street as an investment banking analyst.
Under FAME IMC, Kris works with individuals, small businesses and established companies nationally to help them create an online presence, execute live events, and implement digital marketing strategies.
In 2014, Kris launched FAME Studios, a production studio that creates unique print and digital content for clients and FAME's internal brands. Subsequently, FAME Media publishes and distributes e-books and ezines, including MADE Magazine, a bi-monthly digital publication that targets diverse and ambitious millennials who desire to be successful.
Kris has been honored numerous times for her hard work, as well. Recently, she was honored by the Professional Diversity Network's Women's Channel as an "Impact Player" in Chicago's Marketing and Media Landscape. Kris is a graduate of Howard University's School of Business.
In her spare time, Kris enjoys teaching Entrepreneurship 101 at Fellowship Bible Academy and is a member of Alpha Kappa Alpha Sorority, Inc.
Annie Coleman
Moderator: Building Inclusive Communities July 13th 9:50pm – 10:20pm
Annie Coleman is an event producer, world traveler, and community builder. She is heavily involved within the Burning Man community, a producer of TEDx BlackRock City, Envision Festival and Co-Creator of the La Calaca Festival in San Miguel de Allende. Mexico.
Ian Hargrove
Panelist: Keeping Creative Talent In Chicago July 13th 8:55pm – 9:45pm
He is a fashion designer, Project Runway contestant, citizen of the world and founder of AgainstAllOdds. AgainstAllOdds is a Chicago-based socially conscious fashion company with a small team of artists, dreamers, and free thinkers from the Midwest designing clothes for local Chicagoans and people worldwide.Working closely with multiple charities and philanthropic organizations in an effort to help expose their social awareness, Ian stresses the importance of maintaining a close relationship to hometown creatives and attracting new talent.
View Chicago Programming
You can check schedules, participants, and more updates on Chicago programming here.
comments
comments
We're in the business of bringing people together to better themselves forming a more inclusive world. Entrepreneurs, creatives, influencers, and professionals what's up.
↑ Back to top