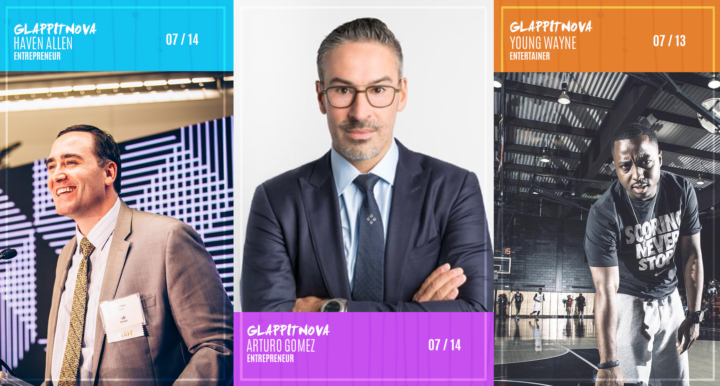 Chicago
From MHUB Chicago To Nike's Chi-League
Here are a few of our +40 Chicago participants spanning different industries. Glappitnova is known for shops talks with panels and performances, but we're adding on-site mentorship to help you get on your way as well. Check out some of our participants for Glappitnova Chicago that will be held July 13th and July 14th. Your ticket gets you into all of the rooms with various activities and activities range from storytelling, panel discussions, live performances, on-site mentorship, the party, and more. You can check out our programming here. Get your early bird tickets below for $45 bucks and the prices will increase June 9th. Other cities will be announced shortly.
Haven Allen
Executive Director, MHub
July 13th Storyteller
Haven Allen, executive director, and co-founder, is an entrepreneur and technology strategist who most recently concentrated on growing the manufacturing industry and strengthening its community throughout Chicagoland. As an economic development strategist at World Business Chicago, he directed the Advisory Council for Chicagoland Manufacturing through which he established and led the implementation of an economic development agenda to support growth and job creation in the manufacturing sector. During his graduate education, Haven served as a Mayoral Fellow at the City of Chicago. As a fellow he provided research and analysis on policy initiatives dealing with infrastructure, electricity markets, and municipal marketing. In order to give back to his country, Haven joined the Peace Corps and served as a community economic development volunteer in Panama where he worked to strengthen the management and leadership capacities of rural cooperatives and local organizations in order to increase economic opportunities. In addition, Haven was a small business owner in the production and publishing industry. Haven has a Master of Public Policy and a Certificate of Graduate Studies in Science, Technology, and Public Policy from the University of Michigan and a Bachelor of Arts in Political Science from the University of Illinois at Chicago.
Arturo Gomez
CEO, Big Game Air
July 14th Panelist: Chicago Entertainment & Nightlife 8:00 pm – 8:50 pm
Arturo's creative business vision and passion for sports merged to forge the exciting business that is Big Game Air. For more than 19 years, Arturo has been creating hospitality concepts and building strong teams to grow their footprint in Chicago's incredibly competitive hospitality landscape.
Arturo's operational and marketing expertise, industry acumen, and dedication and drive for success have made him one of the most respected professionals in Chicago's hospitality industry. His ability to identify talent and create solid teams has enabled long-term sustained growth for his ventures. At the forefront of Arturo's profitable business partnerships and admired employee relations is his highly effective leadership abilities and customer connections, that have placed his projects at the top of a very short list of consumer and media favorites.
Born and raised in Lansing, Michigan, Arturo attended the University of Michigan where he majored in Biology and Latin American studies. Upon moving to Chicago in 1997, he started his career in the Chicago hospitality industry. With a passion for providing superior customer service experiences, he worked his way to become a nightclub general manager, and shortly thereafter in 2002, Arturo teamed up with two other industry professionals, and together they launched Rockit Ranch Productions, a Chicago-based restaurant and nightlife development and management company. Since its debut, Rockit Ranch has developed into seven unique venues with a team of more than 650 employees. In 2017, Arturo went on to pursue other entrepreneurial interests, and joined forces with friend and fellow hospitality veteran Todd Rubin, to launch Big Game Air.
For nearly two decades, there is no area of business development that Arturo has not been intimately involved with. It is this strong diversified experience that Arturo brings to the leadership team of Big Game Air. He truly believes that the guest experience is paramount, and he focuses on delivering an elevated and memorable entertainment experience through innovative products with top level service.
Dwayne Eric YoungWayne
Entertainer & Actor
July 14th Storyteller
For the past 5 years, Dwayne "Young Wayne" Young has taken the term Sports Enthusiast to the next level, becoming the go-to Mega Personality for major basketball related events across the nation. From attending Second City Improv, to featuring in Russell Simmons All Def Digital Skits and Film, to being the face of Nike Chi-League for the past 4 years, Wayne has set the precedent for what it means to bring your personality front and center. Wayne was born and raised in Chicago, IL and attended the prestigious and world renowned, Whitney Young High School on Chicago's West Side. In the Spring of 2017 Wayne made his national hosting debut in a McDonald's Ad Campaign, letting viewers know "There's a Big Mac for That!" as the commercial debuted during the NBA All-Star Dunk Contest, During All-Star Weekend.
View Chicago Programming
You can check schedules, participants, and more updates on Chicago programming here.
comments
comments
We're in the business of bringing people together to better themselves forming a more inclusive world. Entrepreneurs, creatives, influencers, and professionals what's up.
↑ Back to top