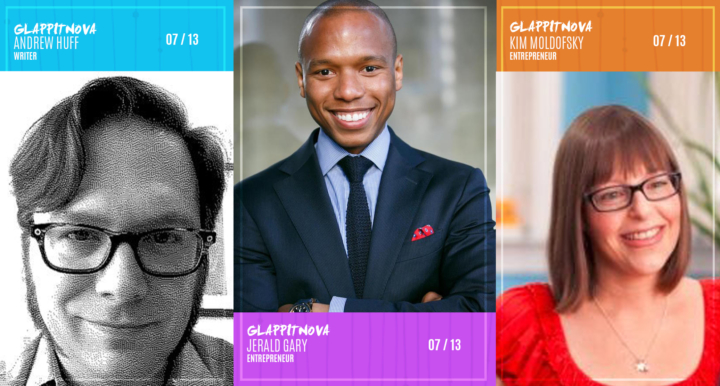 Chicago
From The Owner of the New Regal Theater To The Maker Mom
Here are a few of our +40 Chicago participants spanning different industries. Glappitnova is known for shops talks with panels and performances, but we're adding on-site mentorship to help you get on your way as well. Check out some of our participants for Glappitnova Chicago that will be held July 13th and July 14th. Your ticket gets you into all of the rooms with various activities and activities range from storytelling, panel discussions, live performances, on-site mentorship, the party, and more. You can check out our programming here. Get your early bird tickets below for $45 bucks and the prices will increase June 9th. Other cities will be announced shortly.
Andrew Huff
July 13th Storyteller
Andrew is the former editor and publisher of Gapers Block, an award-winning Chicago-centric news and events webzine he co-founded in 2003 and put on indefinite hiatus on January 1 this year. In addition to Gapers Block, he has also been a professional blogger for corporate clients, a professor of online journalism, a copywriter for academic websites, and a PR professional for everything from indie rock bands to the Northern Trust. He hosts 20×2 Chicago, a show in which 20 interesting people have two minutes each to answer one question, and is the cohost of Tuesday Funk, an eclectic monthly reading series held the first Tuesday of the month in the upstairs bar at Hopleaf in Andersonville. Find out what else he's up to at me3dia.com.
Jerald Gary
July 14th Panelist: Chicago Entertainment and Nightlife 8:00 pm – 8:50 pm
Jerald Gary is President of Singularity and Chairman of the Chicago Regal Foundation and a proud product of 79th Street on Chicago's South Side. Prior to purchasing the Avalon Regal Theater at age 29, he created a private equity fund to separately invest in real estate, technology, and businesses in the surrounding community. Before that, Jerald held various roles in enterprise technology management at Chicago-based Electronic Knowledge Interchange and at Killerspin, where he focused on software-enabled optimization of business processes. Prior to, he developed, wrote and executed derivative trading strategies. He began his career as a Portfolio Manager at LaSalle Global Securities and Trust Services (a division of LaSalle Bank), where he managed the risk and administration of fixed income derivatives. Jerald completed separate studies in Aviation and Finance at the University of Illinois, Urbana-Champaign and subsequently worked in then-Senator Barack Obama's United States Senate office as an intern.
He is an Associate Board member of Providence St. Mel School, where he was a John Philip Sousa Awardee and Chair of its Symphonic Band's percussion section, as well as the Merit School of Music, where he was a percussion student in the Saturday Enrichment Program and drummer in the Honors Jazz Ensemble. He was also a percussionist in the Hyde Park Youth Symphony and the City of Chicago's Gallery 37 Latin Jazz Band and studied percussion in Bangkok, Thailand as a teen. Jerald also participated in programs at eta Creative Arts, Alyo Children's Dance Theater, and the Chicago Multi-Cultural Dance Center as a child.
Jerald was included in Crain's Chicago Business' 2014 "20 in Their 20s" series of upcoming Chicagoans, was named a 2015 Chicago Defender Man of Excellence, 2016 Chicago Urban League Innovator, and 2016 WVON/Ariel Investments 40 Under 40 Game Changer. He holds a Private Pilot License from the University of Illinois Institute of Aviation and enjoys mentoring students at the Big Shoulders Fund and playing drums at the Regal.
Kim Moldofsky
July 13th Panelist: The Dark Side of Entrepreneurship 7:45 pm – 8:35 pm
Kim Moldofsky has been a factory worker and a social worker, a dolphin trainer, corporate trainer, and a potty trainer. She eventually focused on a career as a freelance writer, marketer, blogger, and social media consultant. In addition to publishing her own sites, The Maker Mom and STEM Kids Chicago, she works with a variety of clients. Kim loves helping small companies and large organizations shape their branding, messaging, and campaigns. Recently, she was part of the launch team of mHUB, Chicago's exciting new innovation center for physical product development and manufacturing. Kim has a Ducktorate in Management from Disney University in addition to a BS in Psychology and a Master's in Nonprofit Management from more traditional schools. See more at http://www.themakermom.com/work.
View Chicago Programming
You can check schedules, participants, and more updates on Chicago programming here.
comments
comments
We're in the business of bringing people together to better themselves forming a more inclusive world. Entrepreneurs, creatives, influencers, and professionals what's up.
↑ Back to top