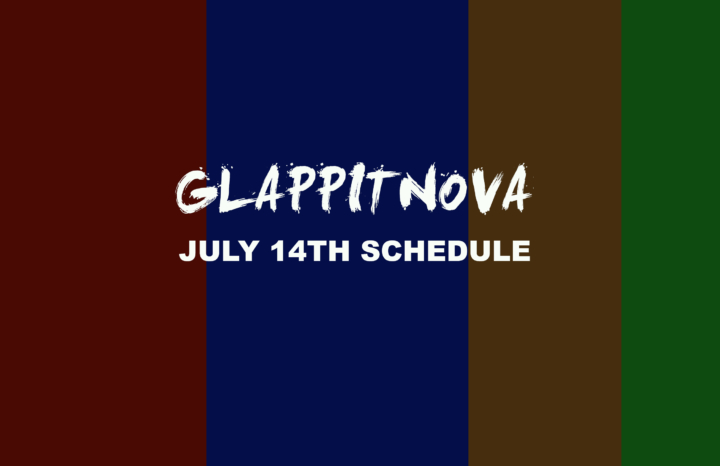 Chicago
July 14th Showcase Schedule
Here is the current run of show for July 14th showcase. We are doing a ton of things drastically different this year but still focused on intersecting different perspectives and amazing people. It will be more spontaneous, raw, and free flowing. Make sure to get your tickets below and have proper identification for this +21 and older private event. Your ticket gets you into all of the rooms and activities for the night. This will be an event like you've never expected unless you've already attended Glappitnova.
If you need a discount use "lastminute" for 50% off. Get your tickets below.
Pat Whalen is conducting his live political show later in the night some big political players, reality tv stars are will be on site as well. We've added open sets for attendees to get on stage. Ayda Keshtkar's "Catstronauts" art installation are three 4 foot tall fiberglass cats, MEOW! Those cats will be chilling in the cut. Get your tickets below.
FREE DRINKS?
Drinks are provided by Tito's Homemade Vodka and Lagunitas Brewing Company for our private +21 and older event. Thanks to our other sponsors Twitter Blackbirds, We Are Unlimited, Lucid Creative Agency, and Ear2Ground.tv. All tickets must be purchased in advance below.
WHAT TIME?
Doors open at 6:00 pm both nights with some great music curated by DJ PC3 and friends. The actual sets start around 7:00 pm and early arrival is suggested. Take into consideration "TRAFFIC." The lineup is subject to change and the show will go on rain or shine. It's in a hidden warehouse with multiple colored rooms. Located 1446 W. Kinzie Chicago, IL 60642.
PARKING?
There is free parking in the area but not near the entrance of the event. Please use ridesharing services.
---
GLAPPITNOVA: JULY 14TH SCHEDULE
Red Room #1:
6:00 pm – 7:30 pm: Doors Open & Socializing
7:30 pm – 8:00 pm: Open Call For Attendees
8:00 pm – 8:50 pm: Chicago Nightlife & Entertainment Panel
Terrell Taylor: Music Executive & RIAA Certified / Moderator

Sandi Robinson: Director of Events & Sales, The Godfrey Hotel

Arturo Gomez: CEO, Big Game Air

Jearld Gary: CEO Singularity, Owner The Regal Theater

MrMauricio: Celebrity Host & Music Producer
9:00 pm – 9:50 pm: Reality Vs Reality TV Panel
Chris Drish: ABC's The Bachelorette Season 7 / Moderator

Casey Shteamer: ABC's The Bachelor

Frank Neuschafer: ABC's The Bachelorette Season 6

Nikki Kaapke: ABC's The Bachelor & Bachelor Pad Season 13

Kenneth Moreland AKA Diggy: Fan Favorite On The Current Bachelorette: Late Add
10:00 pm – 11:45 pm: Party & DJ Set
Orange Room #2:
7:30 pm – 7:40 pm: Alex Niemczewski, CEO, Ballot Ready
7:45 pm – 8:25 pm: Open Call To Attendees
8:30 pm – 8:40 pm: Jane Beachy, Founder, Salonathon
8:45 pm – 8:55 pm: Open Call To Attendees
9:00 pm – 9:10 pm: Ciera McKissick, Founder, AMFM
9:15 pm – 9:25 pm: Ariel Zetina, DJ/Music Producer
9:30 pm – 11:00 pm: Open Call To Attendees
Blue Room #3:
7:45 pm – 7:55 pm: Desiree Wrigley-Vargas, CEO, Parachute
8:15 pm – 8:25 pm: Kelley Williams, CEO Paige & Paxton
8:30 pm -8:40 pm: Neal Sales-Griffin, CEO, CodeNow
8:45 pm – 8:55 pm: Yuri Malia, Co-Founder, Swipe Sense
9:00 pm – 9:10 pm: Brandon Holmes, Artist & Performer
9:15 pm – 9:25 pm: David Carson, Trainer & Nike Influencer
9:30 pm – 11:00 pm: Good Evening With The Pat Whalen Show (Political Satire Show)
Featuring Daniel Biss, Paris Schultz and performers Attack The Sound.
Green Room: 4
Talk with participants and other people you've met at Glappitnova.
comments
comments
We're in the business of bringing people together to better themselves forming a more inclusive world. Entrepreneurs, creatives, influencers, and professionals what's up.
↑ Back to top